Some of the visuals of the state-facsicm unleashed upon Pakistanis by the current fascist regime.
The state-fascism includes:
Differently-abled women being beaten up.
Opening up fire on the peaceful protestors and many of them ending up being killed.
Abducting the people from their homes.
Bulldozing the houses and business of PTI leaders.
Abducting the relatives of PTI members.
Lets take a look back at what happened after the Regime Change Operation in Pakistan when an alliance of 13 political parties was imposed on a country of 230 Million people against their will. Since then Pakistan is under a #Partial_Law#PakistanUnderFascism pic.twitter.com/w3r1b7GLs4

— PTI (@PTIofficial) June 12, 2023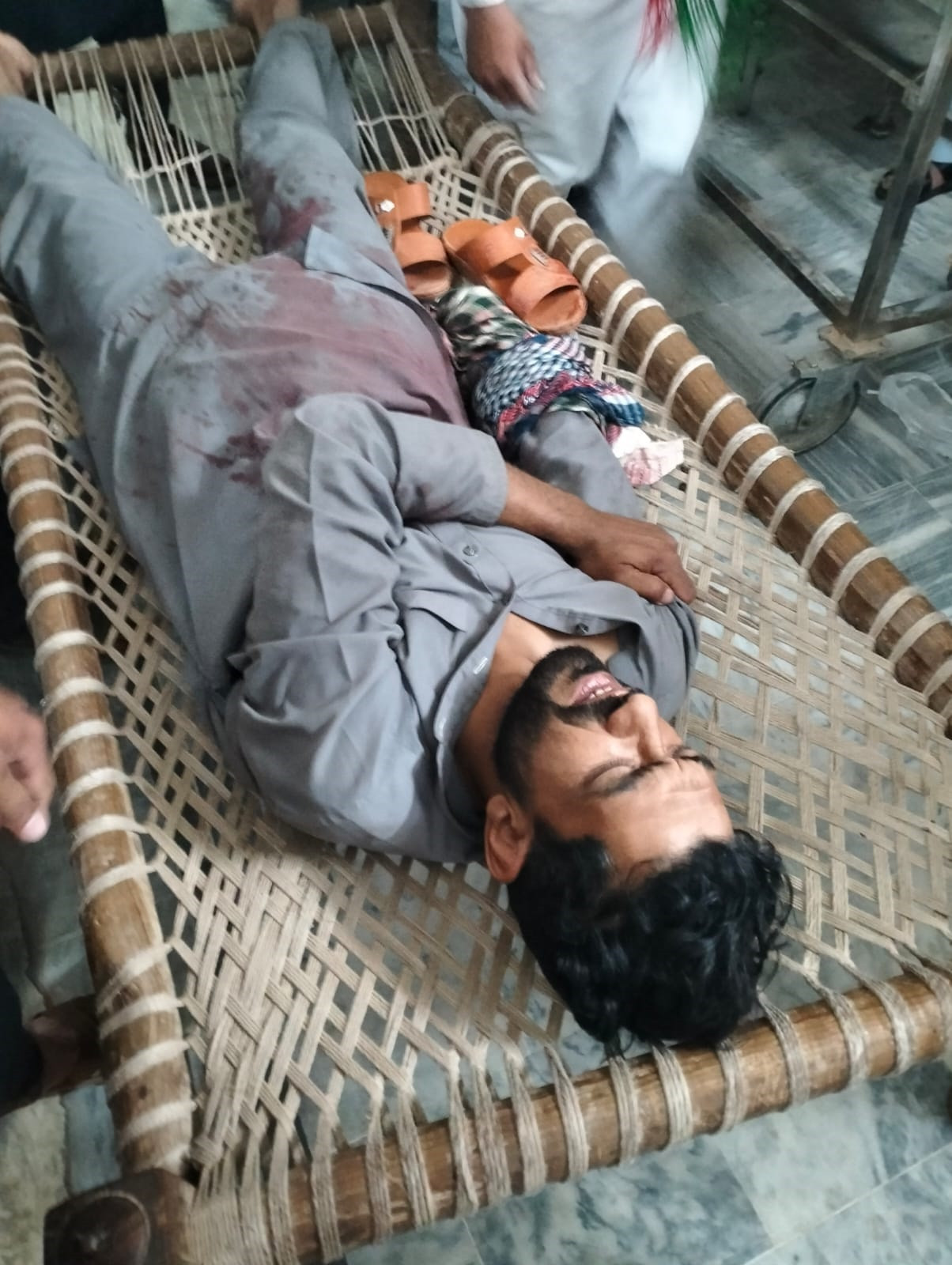 Lets take a look back at what happened after the Regime Change Operation in Pakistan when an alliance of 13 political parties was imposed on a country of 230 Million people against their will. Since then Pakistan is under a #Partial_Law#PakistanUnderFascism pic.twitter.com/w3r1b7GLs4

— PTI (@PTIofficial) June 12, 2023
Long March to Islamabad
On 25th May 2022, the govt tried to crush PTI's long march and used force to stop people from coming out to exercise their democratic right to protest. Two PTI workers died. Imran Khan called off the march to stop further bloodshed. #PakistanUnderFascism pic.twitter.com/wxTfzxG7Rb

— PTI (@PTIofficial) June 12, 2023
Long March to Islamabad
On 25th May 2022, the govt tried to crush PTI's long march and used force to stop people from coming out to exercise their democratic right to protest. Two PTI workers died. Imran Khan called off the march to stop further bloodshed. #PakistanUnderFascism pic.twitter.com/wxTfzxG7Rb

— PTI (@PTIofficial) June 12, 2023
Zile Shah's Murder
In March 2023, Ali Bilal, nicknamed Zile Shah, was brutally tortured to death in police custody after being abducted from a peaceful protest in Lahore. His post-mortem report confirms that he was subjected to torture causing death.#PakistanUnderFascism pic.twitter.com/vkwzzU5Ftk

— PTI (@PTIofficial) June 12, 2023
Attempted Assassination of Imran Khan
On 3rd November 2022, former PM Imran Khan was shot in an assassination attempt in Wazirabad, Punjab, during the Azadi March. A PTI supporter was killed and many other were injured including some PTI leaders. #PakistanUnderFascism pic.twitter.com/ViilYHrpwO

— PTI (@PTIofficial) June 12, 2023
Abductions of PTI SMT and Party Workers
In March 2023, more than 2100 PTI social media activists, party workers and supporters were abducted during a nation-wide crackdown on Imran Khan's party. They were illegally detained, and their families were harassed. #PakistanUnderFascism pic.twitter.com/6tB4fvdSBk

— PTI (@PTIofficial) June 12, 2023
Abductions of PTI SMT and Party Workers
In March 2023, more than 2100 PTI social media activists, party workers and supporters were abducted during a nation-wide crackdown on Imran Khan's party. They were illegally detained, and their families were harassed. #PakistanUnderFascism pic.twitter.com/6tB4fvdSBk

— PTI (@PTIofficial) June 12, 2023
PTI Election Rally
On 8th March 2023, just few hours before PTI's election rally, the caretaker govt of Punjab, imposed section 144 in Lahore. Police unleashed tear gas and water cannons on peaceful protesters and arrested several PTI workers and supporters. #PakistanUnderFascism pic.twitter.com/34CldLlgDh

— PTI (@PTIofficial) June 12, 2023
Zaman Park Operation
On 14 March 2023 authorities launched a full-scale attack on Imran Khan's residence to arrest him illegally even after he submitted a signed guarantee to appear in court. The siege went on for 2 days before the operation finally halted. #PakistanUnderFascism pic.twitter.com/dBBGBvWlCG

— PTI (@PTIofficial) June 12, 2023
Attack on Imran Khan's Caravan during Court Hearing
On 18 March 2023, Imran Khan set out to appear in a court in Isb. There was heavy shelling and he faced intense resistance from the Police and unidentified men around the complex awaiting his arrival. #PakistanUnderFascism pic.twitter.com/t7H9jgJOfd

— PTI (@PTIofficial) June 12, 2023
Illegal Raid on Zaman Park
On 18th March 2023, police attacked Imran Khan's residence in his absence. The police stormed his house without a search warrant, against clear court orders. They broke the front gate, beat the workers and arrested them illegally. #PakistanUnderFascism pic.twitter.com/YdsKAVf6n7

— PTI (@PTIofficial) June 12, 2023
Imran Khan's illegal Arrest
On 9th May 2023, Imran Khan was illegally arrested from the Court premises, when paramilitary troops stormed into the High Court. They broke the windows, beat him and dragged him towards the car taking him to an unknown location. #PakistanUnderFascism pic.twitter.com/24EAstFWMY

— PTI (@PTIofficial) June 12, 2023
May 9th False Flag Operation
On 9th May 2023, a false flag operation was conducted to trap PTI and without any investigation, the govt started a nationwide crackdown on PTI leadership and its workers blaming them of the attacks on state buildings. #PakistanUnderFascism pic.twitter.com/HtUGREWjUY

— PTI (@PTIofficial) June 12, 2023
May 9th False Flag Operation
On 9th May 2023, a false flag operation was conducted to trap PTI and without any investigation, the govt started a nationwide crackdown on PTI leadership and its workers blaming them of the attacks on state buildings. #PakistanUnderFascism pic.twitter.com/HtUGREWjUY

— PTI (@PTIofficial) June 12, 2023
Harassment of Women
Women faced the worst clampdown and brutality to discourage their political participation. Security forces were seen beating, and dragging them for peacefully protesting. Many women are languishing in jails in terrible conditions. #PakistanUnderFascism pic.twitter.com/fPzzpQLwEv

— PTI (@PTIofficial) June 12, 2023
Forced Political Divorces
Using 9th May incidents as an excuse, the govt abducted PTI leaders and forced them to leave the party. They were set free on the condition of leaving PTI and announcing it through a scripted press conference condemning 9th May. #PakistanUnderFascism pic.twitter.com/267HodM6iR

— PTI (@PTIofficial) June 12, 2023
Imran Riaz's Missing
A renowned journalist Imran Riaz Khan was abducted on May 11, 2023, from Punjab's Sialkot Airport. He has been missing for over a month now and even after repeated court orders, he has not been presented in front of the magistrate. #PakistanUnderFascism pic.twitter.com/ZQT2L5MphY

— PTI (@PTIofficial) June 12, 2023
Children Abducted
Given the deteriorating conditions of human rights, even children are not safe. Testimony of a mother whose fourteen-year-old son has been in prison after the 9th May false flag operation for showing his support for Imran Khan. #PakistanUnderFascism pic.twitter.com/fxOHSxxysi

— PTI (@PTIofficial) June 12, 2023
Harassment of Critically ill
The elderly and critically ill PTI workers and leaders are also being harassed and abducted, putting their life in danger. A PTI leader who just suffered a heart attack is being arrested from the hospital. #PakistanUnderFascism pic.twitter.com/fyzq4QTvTF

— PTI (@PTIofficial) June 12, 2023
PTI Leader's Homes Destroyed
Many PTI leader's and worker's houses were raided at night without any search warrants. The police along with unknown men would not just harass the family members but would destroy everything in their homes to pressurize them. #PakistanUnderFascism pic.twitter.com/QQEgs0uD6J

— PTI (@PTIofficial) June 12, 2023
Businesses Destroyed
PTI leaders reported that authorities sealed their businesses to blackmail them into leaving PTI. Hammad Azhar said that police shuttered his business, one of the oldest steel manufacturers in Pakistan without any sealing warrants. #PakistanUnderFascism pic.twitter.com/9yl75TOvf1

— PTI (@PTIofficial) June 12, 2023
Military Courts
Using 9th May to crush PTI, govt is establishing military courts to try protesters arrested after the 9th May protests.These courts are a huge HR violation as there is no transparency and the risk of injustice due to the absence of fair trial.#PakistanUnderFascism pic.twitter.com/ew5NmFtxBU

— PTI (@PTIofficial) June 12, 2023
Using Rape as a Tool to Silence Women
There are numerous reports coming out that women are being harassed and threatened with rape. Women have never been so mistreated and harassed by the state for exercising their right to protest peacefully. #PakistanUnderFascism pic.twitter.com/CBIJ0eozG9

— PTI (@PTIofficial) June 12, 2023
Murad Saeed's Life in Danger
Former Federal Minister and PTI MNA Murad Saeed has been receiving death threats for the past few months and had to go in hiding. He also wrote a letter to the Chief Justice of Pakistan about his life being under serious threat. #PakistanUnderFascism pic.twitter.com/GsIyXpu4zP

— PTI (@PTIofficial) June 12, 2023
25 People Killed
At least 25 peaceful protestors were killed during the 9th May protests as a result of straight firing by the security forces. Around 600 were also wounded and many of them were critically injured and hospitalized. #PakistanUnderFascism pic.twitter.com/icriYGWCK7

— PTI (@PTIofficial) June 12, 2023
Torture to Silence Citizens
Detained PTI leaders and workers talked about numerous stories of torture both mental and physical during their illegal detention.A worker Zakir Mardan, narrates his story of how he was tortured and humiliated for supporting Khan. #PakistanUnderFascism pic.twitter.com/2UX26VrCak

— PTI (@PTIofficial) June 12, 2023
Attacks on Freedom of Speech
Right after the regime change operation the grip also tightened around journalists and media houses to silence them.Many journalists were arrested for raising their voice against state brutality. Arshad Sharif was assassinated.#PakistanUnderFascism pic.twitter.com/I4mJgloD1f

— PTI (@PTIofficial) June 12, 2023
Private Audios/ Videos
Pakistan's constitution guarantees right to privacy as a fundamental right. Yet,there is an overwhelming increase in the release of private audios and videos by the PDM government as a tool to blackmail the PTI leadership and workers. #PakistanUnderFascism pic.twitter.com/JG3J39xdKJ

— PTI (@PTIofficial) June 12, 2023