In a statement released by Glenn Beck this Sunday, he thanked the Prime Minister for taking the lead on saving innocent lives and showing compassion for the abandoned people of Afghanistan. He detailed that his team had reached out to numerous political leaders around the world to discuss the situation in the war-ravaged country but PM Imran was one of the very few who responded with determination. He said the premier's values of placing humanity before politics is a great example of inter-faith cooperation.
So this is how he has thanked the Prime Minister: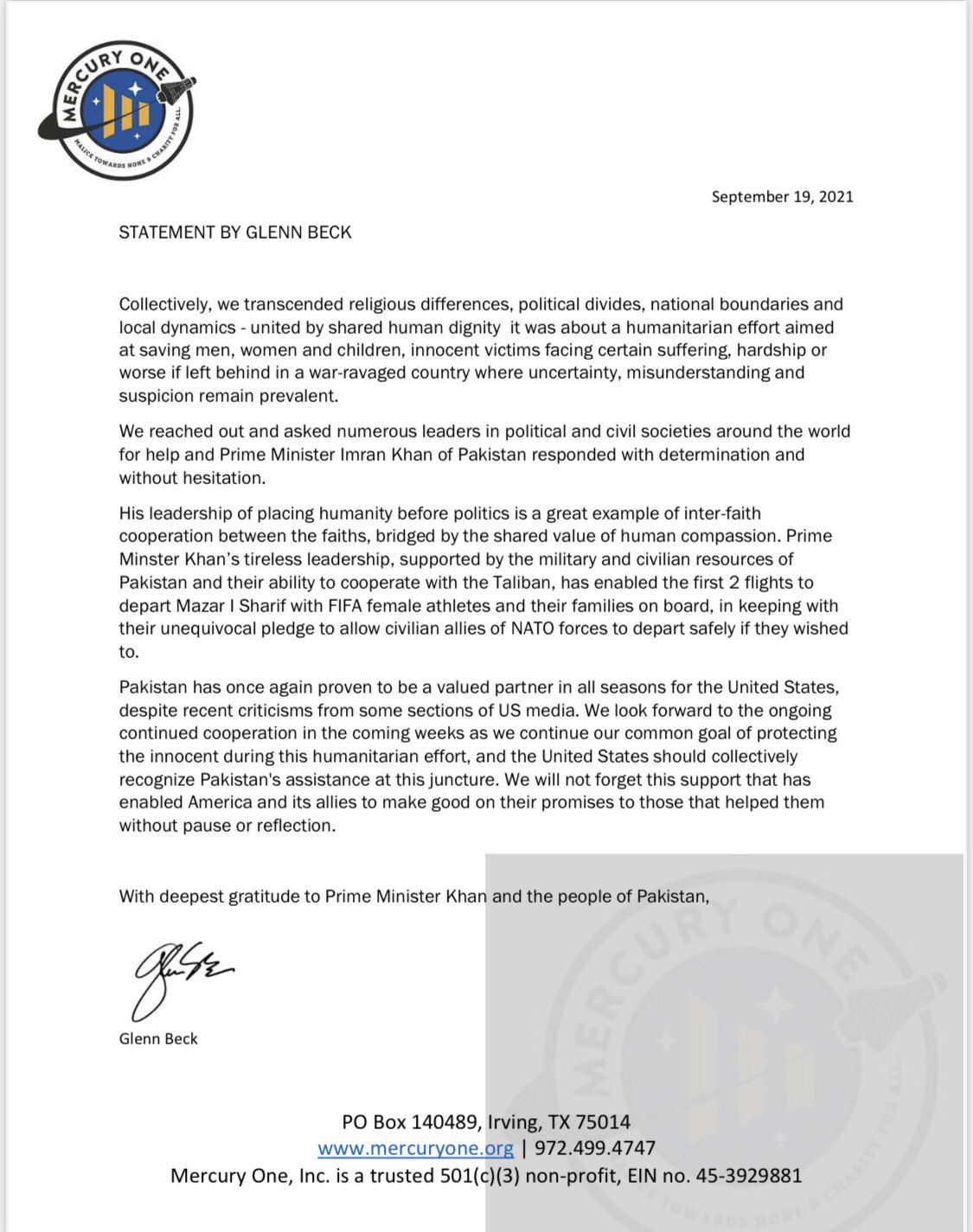 PM Imran Khan is lauded for the humanitarian service provided in Afghanistan by Pakistan. While several leaders failed to give an encouraging response, it was PM IK who swiftly responded with action. Starting from bringing Taliban & US to table talk till the successful evacuation of different nations including the US, PM IK has played a vital role in maintaining peace of the World on humanitarian grounds. This is what makes him unique from other leaders of the world.
This is how he has shared the full story in a Twitter thread:
1. Tomorrow on radio I will share the letters exchanged between me and the prime minister of Pakistan. In the hour of desperate need I reached out in the hopes that some sort of leadership could be found to help us do the impossible. @ImranKhanPTI Con't pic.twitter.com/qyCTtBCJo4

— Glenn Beck (@glennbeck) September 19, 2021
The US commentator said that he had reached out to civil and political leaders around the world for help but "the silence was shocking".
"Some calls and requests received a simple yes or no, some went unanswered but we received an immediate response to our requests from Prime Minister Imran Khan of Pakistan who then acted on his willingness to assist," he added.
Beck said he and PM Imran Khan, together, joined hands to save thousands of innocents who faced death, adding that the two transcended political divides, national boundaries, and much more for the people of Afghanistan.
Not only this but Pakistan has also sent some 300 tons of edibles as humanitarian aid to Afghanistan while others abandoned the war-ravaged country. Pakistan has emerged as a major player in the process of peace in the region as the world praises Prime Minister Imran Khan.
By : Salman Raza